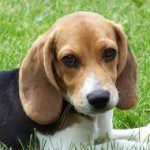 That puppy that you brought home is adorable, cuddly, playful and friendly. But puppies are very "mouthy". They chew, bite and nibble on lots of things: their toys, the furniture, clothing and people's hands. Little puppy teeth don't usually cause too much damage, but as they get older, if they are not trained away from biting, they can cause damage to objects and cause harm to family and friends, opening up the dog owner to a dog biting lawsuit. Getting cute little Rover to use appropriate mouthing is one of the most essential tasks of being a new dog owner, right up there with house training.
Your ultimate goal is to train your dog to quit being "mouthy" except in very prescribed circumstances: with a toy that you have provided or when they are eating.
The easiest way to train a puppy is to train them the way their dog families train them!
In the beginning, you have to train your puppy to have a "soft" mouth. If you watch puppies playing with their littermates or playing with their mom, you can see this training happen. Whenever one puppy gets too wild and bites either a sibling or their mom too roughly, the bitten dog will yelp loudly. This causes the biting puppy to let go and alerts them that they have gone too far. Typically, the puppy or mother dog that has been bitten will disengage from playing with that puppy for a while. So, the little puppy has received a verbal warning (the yelp) and a puppy time out. These incidents teach the puppy to modify their mouthing and to be more gentle.
If you are playing with a young puppy and it bites you hard, do the same thing that dogs do. Yelp in a high pitched voice, and let your hand go limp. The auditory cue of the yelp combined with the stopping of play will typically alert and startle the puppy. Resume playing and praise your puppy for stopping the biting and especially for licking instead. If your puppy bites you a few more times, stop the training session after about 15 minutes and try again the next day.
If the puppy doesn't seem to respond to your yelping, you may have to move into a puppy time out when biting occurs. To do this, the next time your puppy bites you hard (remember soft mouthing is ok), again yelp or say "Ouch" loudly and leave the room for half a minute (no longer). It is much easier for you to remove yourself and the puppy will be sad that it has lost a playmate. Obviously, you can't do this training with multiple humans or the puppy will just go play with somebody else. After the 30 seconds, come back and play again. If the puppy licks you or is gentle, offer lots of praise and even some treats.
As the puppy ages, ideally, they will only be mouthing you and not biting. If you want to reduce the amount of mouthing, you actually have to pretend that they are hurting you and still yelp. This will eventually wean them off of mouthing humans and they will stick to mouthing their toys.