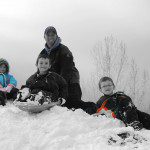 Winter is here and because it's Michigan, it's going to be here for a while. You may miss the sun and warmth, but winter provides opportunities to see beautiful snow-covered scenery and an array of recreational activities.
However, I should remind you that winter sports and recreation activities have some inherent risks. Here are a few major ways to keep yourself safe this winter:
Sledding:
Who doesn't have a picture of sledding as a child? It's magical and it's relatively simple. All you need is a hill and some sort of sled. Consider these safety issues:
Sled on snow and not ice.
Make sure there is plenty of snow without bald patches and that the snow doesn't cover up dangerous scrub or playground equipment beneath it.
Try to use "tried and true" hills. Lots of neighborhoods have them from the hill at the park that's designated the sled hill to officially sanctioned sledding locations.
Make sure the hill has a wide flat area at the bottom that will allow you to glide to a stop.
Avoid hills that abut parking lots or streets or hills that empty out to lakes, benches or other obstacles.
Sled during the day when you can see the hazards.
On the slopes:
Skiing or snowboarding is absolutely exhilarating and terrific exercise. There are opportunities in Michigan and elsewhere to enjoy the powder. But wherever you are, be sure to follow these guidelines:
Take a lesson if you have never skied or snowboarded before or if it has been a long time. Even better, do several pre-ski workouts in the weeks before your ski outing. You need to strengthen your quadriceps particularly.
Dress to excess. Never underestimate how cold you can be. It's better to have lots of layers and disrobe than to be inadequately protected. Be sure your neck is covered, your head is covered, your hands are adequately covered, and you have multiple layers of socks. Wear thermal underwear, too!
Have appropriate equipment, including skis and snowboards that are not too long, boots that fit correctly, and bindings that are well-adjusted by the professionals at the ski shop.
Always wear a helmet. This is, to use a very bad pun, a no-brainer, meaning your failure to use it, could cause you to have no…well you get it.
Wear goggles and sunscreen. The reflection of the sun on the slopes will cause sunburn and the sun's rays are stronger at higher altitudes. Goggles also protect your eyes from debris and tree branches.
Beginning snowboarders may also benefit from wearing rigid wrist guards, which are designed to protect your hands and wrists when you fall and you will fall.
Never ski or snowboard alone.
Only tackle the trails that you can handle. Don't go on a black diamond trail to impress somebody. A likely impression is your face planted on a switchback turn.
Snowmobiling:
Michigan snowmobilers are lucky. There are 6,200 miles of specially marked snowmobile trails and plenty of back country adventures, too. Be sure to combine adventure with safety by:
Dress for really cold weather. The cold temperature will be exacerbated by the speed at which you are traveling. So wear thermal underwear and socks, multiple layers, gloves or mittens and snow-proof outer layers.
Helmets and goggles are essential for protection of your head and your eyes.
Do not snowmobile over frozen lakes. You cannot accurately gauge the thickness of the ice and how much weight each section of the ice can tolerate.
Be sure that your snowmobile is in compliance with local law. Michigan Department of Natural Resources will be ticketing snowmobile users whose machines are deemed too loud.