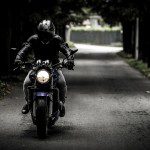 Although motorcycle riders are only 2% of all registered vehicles in the United States, 5% of traffic fatalities are motorcycle riders.
Motorcycle riders are at higher risk because bikes are smaller than other vehicles and are therefore less visible, bikes are less stable than four-wheeled vehicles and there are fewer barriers on motorcycles to prevent injuries when compared to automobiles, which have air bags and seatbelts, not to mention door and roof beams and windshields.
Motorcycles do have some safety advantages: they are more agile, they can turn quickly to avoid obstacles and hazards and they have a much shorter stopping distance.
The key to defensive driving, then, is to maximize the safety advantages and compensate for the increased exposure to risk.
First of all, if you have not taken a motorcycle safety course, consider taking one, whether you are a new or experienced bike rider. Many times, this can have an impact on your insurance rates, and even if this is not the case, the more information and experience you can glean, the better. Be sure that you are really competent at braking and cornering as these maneuvers are the trickiest and require the most experience.
Finally, be sure that the bike you drive is a good fit for you (you should be able to place both feet on the ground) to operate safely and with confidence. You should also ensure that you can reach all controls. Be realistic; if you are small of stature, you may not be able to safely operate the largest manufactured motorcycles.
In addition, please keep in mind the following riding tips:
Be vigilant about staying out of all vehicles' blind spots.
When you must pass a vehicle, signal that you will be doing so, pass quickly and get out of the blind spot as quickly as possible. This is a very dangerous maneuver, particularly when passing an 18 wheeler.
Assume that you are invisible! Look always at driveways and intersections and be prepared as to what to do if somebody doesn't see you. Where will your escape route be?
Keep your following distance, using the 2 second rule, but always be looking ahead on the road and planning. What will you do if somebody enters the highway, do you have room to move over?
Avoid hazards like painted road lane markings, manhole covers and potholes.
If the weather conditions mean that the roadways are wet or icy, consider stopping for a while or pulling over, particularly at  the beginning of a rainstorm when the water mixes with the oil on the road surfaces. If you must continue on, be extremely cautious, lowering your speed, increasing your following distance and avoiding all distractions.
Don't ride in a wolfpack, even if it's fun. The exposure to risk is very high.
Obviously, don't drink. Alcohol contributes to a huge number of motorcycle collisions. Designated driving plans don't work as easily with motorcycles, because it means your bike has to stay somewhere typically overnight, but it's better to find a place to stow your bike and return to it alive.
Wear protective gear. We don't know where you are on the helmet question but helmets do save lives. Other protective gear that makes a difference includes protective eyewear, gloves and thick clothing if the weather makes them comfortable. You want your protective gear to give you some relief from the elements (comfort), to be thick enough to prevent abrasions and contact burns and to provide increased visibility. All black clothing might be fashionable, but brighter colors and use of reflective gear may save your life.
Be sure to wear sturdy footwear; leather boots are ideal.