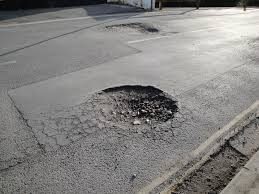 Question: What do we call that time of year in Michigan when the snows are gone and the roads are finally clear?
Answer: Pothole Season!
This could be a record pothole season all over Michigan, both the Upper and Lower Peninsulas. We had a long winter with an extended period of snow and ice covering the roadways. Road engineers calls this "deep frost" and it is the most destructive force other than overweight vehicles in terms of creation of new potholes.
Michigan roads, both state and local, are notoriously in poor shape. (The only way to feel good about Michigan roads is to cross the border into Ontario. Their highways are in terrible shape.) The Michigan Transportation Asset Management Council estimates that 83% of Michigan roads are in poor or fair condition, as opposed to good or excellent.
(By the way, Michigan voters will be asked on May 5 to weigh in on Proposal 1, which is supposed to allocate additional revenue to fix roads and bridges.)
In the meantime, the potholes are out there and they are a force to be reckoned with, so here are some tips:
Check your tires and make sure they are properly inflated.
Keep your speed down, especially when you are traveling in places with which you are not familiar. Hitting a pothole at a high speed can cause tremendous damage to tires, wheels and the underside of your vehicle.
Be very cautious as you approach puddles. (April is also a very rainy month in Michigan.) These puddles could be hiding a large pothole underneath.
Be aware that trucks and construction equipment might be diverted during early spring due to weight restrictions on roads that are under repair or are particularly struck with potholes.
In addition, during weight restriction times, trucks are required to slow down significantly. This may increase traffic congestion.
If you cannot avoid the pothole, slow down as quickly and safely as you can. Try to at least avoid the deepest part of the hole by steering left or right while staying in your lane.
If you hit the pothole and you have that sneaking sensation that you may have damaged your vehicle, stop driving when it is safe to do so and examine your car. It is better to get a tow or change a tire rather than continue to stay on the road with a damaged car.
Motorcyclists are advised to check with other riders and with websites on the safety of the routes they are planning to take. If you are planning to take out your bike, you might want to check out the road first behind the wheel of a car to make sure you aren't caught unaware with the road conditions.