Whether you're getting ready to accompany a miniature ghost, goblin, princess or superhero on the trick-or-treating trail this week, it's helpful to remember a few precautions that will keep everyone safe and sound as they come home to sort out all that yummy candy!
Costume Safety
Attach reflective tape or stickers to your child's costume and treat bucket or bag.  In the dark, the little ones in dark costumes can be difficult for drivers to see, and the reflective tape will help with visibility.

Avoid masks as they can limit visibility for the little ones, causing them to trip.  Consider face make-up instead.  Ditto for long, dragging costumes or dresses.  Walking up and down the front steps of people's homes, sometimes with lit candles inside pumpkins, can make these costumes hazardous.

Look for labels on costumes, wigs and other accessories that indicate that they are flame resistant.

If a sword, cane or stick is part of your trick-or-treater's costume, make sure it is not too long or sharp.    A child may be hurt by these items if s/he stumbles or trips.

Do not use decorative contact lenses without an examination and prescription from an eye care professional.
While Walking…
Children 12 years old and under who are trick-or-treating should always be accompanied by an adult.

Older children and teens who are trick-or-treating without adult supervision should walk in groups, stay in familiar, well-lit areas, carry cell phones for communication with parents and agree on a time to return home by.

Both children and adults should carry flashlights to help light the way in the dark.

Only go to homes with porch lights that are on and never go into a home to get a treat.

Stay on sidewalks, avoid roadways.  Only cross the street in groups, at approved crosswalks.  And remember to look both ways as you cross the street.

Carry a cell phone for easy communication and in case of emergencies.

Contact law enforcement (kids should also know how to dial 9-1-1) if any suspicious or unlawful activity occurs.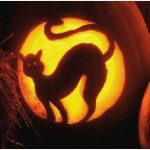 How to Keep Your Home Safe for Trick-or-Treaters
Remove any hazards from your front yard that someone might trip over, including garden hoses, rakes, lawn ornaments and the like.

Wet leaves or snow should be removed from walkways.

Keep your front yard well-lit by replacing burned-out bulbs.

Light your jack-o-lantern with a flashlight instead of a candle.
Enjoying the Goodies!
Eat a healthy dinner before going out trick-or-treating.  A full tummy will make it less tempting to sample the goodies along the way!

Have your children wait until they get home to sample their treats.  An adult should check through all of the treats and discard anything that is unwrapped, spoiled or otherwise suspicious.

Try to ration goodies for the days and weeks following Halloween to avoid upset stomachs.
Sources inclue:  The American Academy of Pediatrics, Michigan State University Extension