There are motorcycle enthusiasts and there are pet lovers and there are those who are both.  In good temperatures, it is much easier to ride with your favorite four-legged friend in a sidecar or comfortable pet carrier.  Remember some of these tips: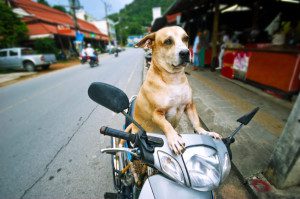 Avoid storms.  Many dogs and cats fear thunder and will become agitated or worse, try to escape.
Be sure to stop often for water and food.  Check the pet carrier and adjust the bedding too.
Don't take your pet if the weather is too hot or too cold.  They just won't enjoy it.
Think about where you're going.  Is it to a biker rally or a fun cruising event?  Is your dog sociable?  If so, then it's a great mix.  If your animal is shy or anxious, events with lots of people will be less fun for them, they might prefer a comfortable ride in the country with their favorite owner alone.
Take a trial run.  Before you take your pet on a long day's adventure, drive for an hour and see if they enjoy it.  Do they seem to be stimulated by the sights and enjoy the time with you or do they appear listless or unhappy?  Let their behavior guide you and not just your desire to be with them.