What is Family and Medical Leave?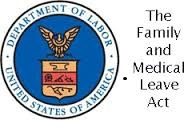 Family and Medical Leave is guaranteed by a federal law, known as the Family and Medical Leave Act (FMLA). Certain employers in Michigan (but by no means all) are required to allow an employee to take unpaid leave and to be able to return to their job in order to take care of a family member in specific situations. The cumulative amount of allowable leave is for 12 weeks during a 12 month period, but can be for more if caring for a family member serving in the military.
Am I entitled to Family and  Medical Leave?
You are only entitled to family and medical  leave if your employer meets the following conditions:
The place you work has at least 50 employees for at least 20 weeks in the current year or the previous year. (So if you work in a place where the number of employees changes because it's seasonable work, there need to be at 50 employees for at least 20 weeks of the year.)

If you work for a company that has multiple locations, the total of the employees at all the locations within a 75 mile radius must be at least 50 for at least 20 weeks of the year.
The workers at your place of employment have to be categorized as employees and not contract workers; there is a difference.
You must have worked for your employer for at least a year and for at least 1,250 hours during the past year.

What are allowable reasons to ask for Family and Medical Leave?
You may request leave for any of the reasons below:
Birth, adoption or foster parenting of a new child within one year of the birth or the adoption or fostering. Both men and women are allowed to take FMLA to bond with the child.

You have been sick and you need to recuperate after a serious illness, generally requiring inpatient treatment and typically one which prevents you from performing your job duties.

You need to care for a  family member with a serious health condition. A family member can be a spouse, a parent and children. At this point, grandparents, and partners (whether same sex or not), as well as in-laws and siblings are not considered family members for the purpose of FMLA.
Handling emergencies due to a family member's military service. This is a complicated component of FMLA, but it can include things like arranging for child care, seeking counseling, and spending time with a military family member prior to deployment and upon return if there is a need for extensive recuperation.
Care for a family member who was injured during military service. Again, the family member can be a spouse, a parent and children. At this point, grandparents, and partners (whether same sex or not), as well as in-laws and siblings are not included.
What happens to my job when I return from leave?
Your employer is supposed to reinstate you, meaning that you are entitled to your old job, if possible. If you are not reinstated into your old job, you are entitled to a job with equivalent pay and benefits as to what you had prior to taking leave. FMLA doesn't protect you, however, if your job is eliminated for other reasons than your leave, like layoffs, plant closures, etc. Certain high paid employees can lose their jobs if their employers tell them ahead of time that taking FMLA is a risk and they are considered a "key employee".
You need to give your employer notice as to when you are returning and by law, you must be reinstated within two days of declaring your intent to return. Your employer cannot put off reinstating you, including requiring that there be an opening in your shift.
I'm on the company health plan. What happens to me?
You are entitled to continued health insurance coverage during your leave. However, if you don't return to work after your requested leave, your employer may require that you reimburse the company for the past health insurance premiums. This is a tricky area if the reason you don't return in a timely manner is due to continued health issues or other extenuating circumstances.
How do I Request Leave?

The FMLA requires 30 days' notice if possible. This is often impossible, except for planned leave in the cases of childbirth, adoption or for planned medical procedures. If you cannot give 30 days' notice, give as much notice as possible.
Get a copy of your company's employee manual which includes their FMLA policy and follow its instructions for requesting leave.
Keep copies of any documents that you sign, including your request for leave (and any emails and notes from employers granting it or not granting it), as well as any documents of pay and benefits during and after the leave.
If you are having a hard time with your employer, it might be beneficial to bring in an attorney to help you negotiate the terms of the FMLA.
My employer is being obnoxious. What should I do?
Your boss is not allowed to make you crazy during your leave. He or she can't constantly harass you regarding work responsibilities while you are on leave. Nor can your boss threaten you with repercussions, like a poor performance review, because you decided to take leave. Your employer cannot harangue you to end your leave earlier than is medically safe for you to do so. You should contact Turner & Turner if you need support during this time.
Some Complications:
Your employer may not be required to allow FMLA.
Your employer may offer paid leave that you should utilize prior to FMLA.
Your employer may have absentee policies or sick leave policies that complicate the request and usage of FMLA.