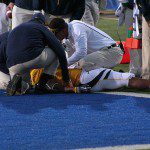 Brain Injuries are in the news again, and once again, sports-related brain injuries are the focus of attention.
We have been watching how the National Football League handled its negotiations with the Players' Association regarding long-term effects of sustained blows to the head. The players for professional sports  had the advantage of advocates within their players' unions to try to find remedies to prevent future brain injuries and to compensate injured players.
On the other hand, collegiate athletes are not professionals and not unionized. Yet these young athletes are still suffering from concussion-related brain injuries. As a result the National Collegiate Athletic Association has agreed to pay $70 million for the purpose of testing and diagnosing a number of student athletes who have reported sports-related brain injuries. The payout still is pending approval by a United States District judge. The reported deal is being criticized by many who are concerned that it doesn't pay for treatment and has a very small per case payout.
Another component of the agreement is aimed at preventing serious injuries from concussions. Each NCAA team is required to evaluate the players prior to the seasons and to ensure that all players who appear to have suffered a concussion be barred from future play until cleared by a physician.
The attorneys representing some of the NCAA players maintain that a variety of student athletes (not just football players, by the way) have suffered brain injuries with long-term adverse consequences, including an inability to stay in school, learning issues, fine motor and gross motor skill problems, depression and anxiety. Keep in mind that the number of college athletes far outnumbers the number of NFL players. There are 20,000 former NFL players but there are 4 million former college athletes, nearly a third of whom were involved in contact sports.
The case revealed that the NCAA had been sued multiple times for concussion related brain injuries suffered by football players, wrestlers, lacrosse players and soccer players.  In addition, there have been 30,000 concussions suffered from NCAA players between 2004 and 2009.
Brain injuries can have a variety of symptoms, some of which are not immediately obvious. These symptoms include:
Loss of consciousness
Seizures
Severe headaches or dizziness
Nausea or vomiting
Memory loss or cognitive problems
Drowsiness, fatigue or insomnia
Balance problems
Partial or full paralysis
Problems with walking and use of large muscles
Fine motor skill impairment (inability to grasp, write or impaired use of small muscles)
Reading issues (inability to process the words)
Speech problems (problems understanding speech, problems coming up with words, inability to understand humor or irony)
Slurred speech
Visual perception problems, blurriness, poor depth perception
Issues with hearing, including hearing loss and ringing in the ears
Loss of sense of smell and/or taste
Sensitivity to bright light or loud sounds
Moodiness and irritability
Depression
Impulsiveness
Aggressive behavior
Confusion or forgetfulness
Emotional outbursts and feelings of frustration
Disorganization and an inability to stay focused, easily distracted
Disturbances of normal sleep patterns, insomnia
Bowel and bladder incontinence
Loss of appetite or changes in appetite