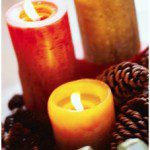 Candles are very pretty to look at but they are a major cause of home fires – and home fire deaths.  A candle is an open flame, which means that it can easily ignite anything that can burn.
Did you know that the top five days for home candle fires are:  Christmas Eve, Christmas Day, New Year's Eve, New Year's Day and Halloween?  Since we are half way through these festive days, we wanted to share some tips for the safest ways to use candles during your holiday celebrations.
When using candles, make sure that you:
Use sturdy candle holders that won't tip over easily.

Put candle holders on a sturdy, uncluttered surface.

Keep candles far away from anything that can burn.

Light candles carefully.  Keep your hair and any loose clothing away from the flame.

Don't burn a candle all the way down – put it out before it gets too close to the holder or container.

Never light a candle if oxygen is used in the home.

Blow out all candles when you leave the room or go to bed.  Avoid the use of candles in the bedroom and other areas where people may fall asleep.

Have flashlights and battery-powered lighting ready to use during a power outage.  Never use candles.

Never leave a child alone in a room with a burning candle.  Keep matches and lighters up high and out of children's reach, in a locked cabinet.
Facts to be aware of:
On average, a candle fire in the home is reported to a U.S. fire department every 34 minutes.

38% of home candle fires start in the bedroom.

More than half of all candle fires start when things that can burn are too close to the candle.