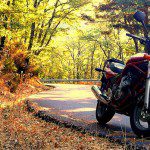 November in Michigan can mean a variety of conditions that can impact motorcycle riders. Some of these changes can actually be quite hazardous. If you are still out on your bike, keep these things in mind:
Leaves are pretty, but can also be pretty dangerous. First of all, you may be following a "leaf peeper", who is entranced with the colors and not so focused on the driving conditions.  In addition, as the leaves continue to fall, the fallen leaves create a particular hazard for motorcycles. As they gather in the roads, even along the curbs, the leaves turn into a slicker surface than the road. Be very careful and try to avoid driving through piles of leaves, as you may lose your traction. Be aware of passing too closely to the curb if leaves are beginning to accumulate there. Finally, when your bike is cool, before you leave to go  out for a ride, check your muffler to be sure that no leaves have collected inside the muffler.
Stay clear of deer! Deer season is right now. Deer are close to the road for a variety of reasons, including the presence of hunters, as well as the just passed peak of breeding season. While in the past, deer encounters were just a rural phenomenon, the Michigan deer population is increasing so much that they are in neighborhoods and even off the sides of busy highways. (The Lodge-696 Interchange is a regular deer hangout.) Whereas automobile drivers are driving heavier vehicles and can often hold their own in a collision with a deer (with a lot of possible damage to the car), a motorcyclist cannot necessarily survive such a collision. So, keep your speed lower in known deer crossings, particularly at dusk and at dawn. Be particularly alert on roads that abut forests or empty fields or farmland. And remember, if you see one deer, you are likely to see more deer.
Slippery When Wet: November can be a rainy month (not the wettest in Michigan, that honor goes to August). Obviously, wet roads are hazardous. The first few minutes of a rainstorm are the most hazardous for bike riders, as the rain mixes with the oil on the road, making the center of the lanes particularly dangerous. As a rider you can mitigate the danger that rain brings. Make sure you are dressed for the rain. Lower your speed and increase your following distance. Wearing a helmet that has a face shield to keep rain out of your eyes is also extremely helpful. And remember that the right side of roads is typically where water pools.
Fall can bring Frost: We don't like to think about the approach of winter, but it is on its way. There can be huge temperature swings in November, and frost is always a possibility. Frost, which is essentially ice, is absolutely treacherous for motorcycle riders. The best idea is to limit your driving in icy conditions, but sometimes you do end up getting stuck on the road. Beware of places where frost shows up first, on elevated roadways, at railroad crossings and in any roadways that have overhanging trees, as the shade doesn't allow ice to melt beneath it.