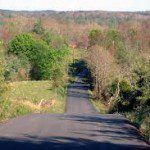 Finally, finally, finally, spring is here. It couldn't come sooner. Gone are the snowdrifts, the black ice, the frozen windshields. All of our driving worries are behind us, right?
Well, no.
Spring is beautiful, a welcome relief for us in the Midwest. But spring driving has its own set of accident triggers. So, as you hit the roads, keep these in mind and stay safe:
Increased construction: The joke is old, but remember there are two seasons up here, winter and construction. It really is true. Lots of major construction projects have to be delayed until the warmer weather. Construction causes detours, lane closures and stop and go traffic, increasing the possibilities not only of accidents but of longer commutes. The latest long term construction project is blocking access from the northbound Lodge Freeway to westbound I-94. Remember to check the MDOT website about construction details.
Wet roads: Despite the absence of snow and sleet, we are moving into the rainiest months of the year (the rainiest is actually June). With rain comes decreased visibility, longer braking times and more collisions. Keep your distance from other drivers during rainy times and be alert.
Teen drivers: Late spring and summer are the most dangerous times for teen drivers. They are on the roads more and in school less. They pose a hazard to themselves and others. Teens are particularly vulnerable when they are passengers in the back seats, as they often don't put on seatbelts back there. Be aware of teens on the road and coach the teens in your life about the best ways to stay safe on the road. Read our blog about teen summer safety here.
Deer: More deer-auto collisions happen in the fall, but they happen in springtime, too, as younger deer wander into roads and their skittish mothers often stay behind. Deer are most active at dusk and dawn, but the deadliest crashes occur at nighttime when visibility is poorest. Be aware of deer population all over Ohio and Michigan, particularly in Oakland County (where they are in residential areas, not just rural ones). Scan the sides of roadways as you drive, take down your speed and remember if you see one deer, you will likely see more. Read about sharing the road with deer here.
Distracted Driving: The greatest danger to driving is being distracted by your phone, your music, your passengers, your Big Mac, and your make-up. Driving is not the time to multi-task. Stay focused on the road and on your safety and the safety of those around you. Everything else can wait until you get to your destination.
Enjoy the spring, send us your beautiful pictures from the road, including the deer and please keep your eyes in front of you!