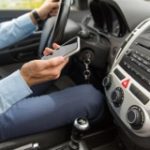 There have been a host of lawsuits filed by personal injury attorneys as of late against the social media app "Snapchat," claiming that a particular feature of the app is negligent.
At issue is the app's "speed filter" feature, which tracks how fast the user is traveling while taking a self-portrait, or "selfie." The speed filter is one of several different filters the app includes. Snapchat users can win virtual "trophies" by sending photographs using filters, thereby creating an incentive for users to use features, such as the speedometer, in the app.
Some personal injury lawyers across the country have been asking people if they've been "…in a car accident that may have involved Snapchat?" Many attorneys have gone so far as to set up websites explaining local laws on distracted driving in addition to sending out press releases regarding Snapchat's potential involvement in certain accidents.
According to Inside Counsel magazine, this month a Georgia man sued Snapchat and a young driver for a car crash that left him with serious brain injuries. The suit alleges that the driver was using Snapchat while speeding at over 100 mph; the speed filter feature registered the speed of the car. While distracted, the car crashed into a car the victim was driving and he suffered serious brain trauma as a result, according to the complaint. The lawsuit alleges the speed filter played a role in the driver's decision to speed.
Snapchat is not commenting on the suit. The company released a general statement about driving while using the app: "No Snap is more important than someone's safety. We actively discourage our community from using the speed filter while driving, including by displaying a 'Do NOT Snap and Drive' warning message in the app itself."
Snapchat isn't the only app that's been targeted by personal injury lawyers for new cases lately. There have been suits that also have gone after apps like Uber and Lyft. However, when a series of accidents regarding distracted driving all involve a specific app, like Snapchat, a question of liability becomes increasingly prevalent. Inside Counsel postulates whether or not this is the "next wave in personal injury lawsuits? Will suits move from just texting and driving to increasingly target specific apps that are deemed to be more distracting to drivers?"
The magazine writes that Snapchat has been implicated in a series of auto accidents around the world as of late. Examples included one from last December, when three people were burned alive in Philadelphia after their vehicle crashed into a parked tractor-trailer filled with dangerous chemicals. It is believed the driver of the vehicle was using Snapchat at the time of the accident.  And, last summer, a young woman in Brazil broadcast her accident over Snapchat, documenting that she was travelling 110 miles per hour at the time of the crash.
To further limit Snapchat's potential liability, the company recently updated the app so that a warning reminding the user not to snap and drive pops up when the speedometer filter is in use.
The Georgia case has not yet gone to trial and, while still not the norm, as apps become increasingly influential in how people conduct their behavior, personal injury attorneys are going to hold those apps accountable if their users cause injury or death to others.