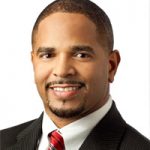 Attorney Devlin Scarber is an established litigator and highly regarded attorney at Turner and Turner specializing in several areas dealing with negligence and malpractice, including: No-Fault insurance; third party automobile negligence; truck accidents; hospital/nursing home negligence; medical malpractice; and general negligence cases. His proficiency in the courtroom and trial experience has led to many positive outcomes for our clients. In addition, his legal writing skills and oral arguments ability has made him a highly successful appellate attorney for our firm, wining a number of cases on appeal.
Inspired by his grandmother, Mary Ruth Ross's historic legal battle in 1962 to gain employment with a then-all white Taylor, Mich. public school district, which was ultimately decided by the Michigan Supreme Court (Ross v Taylor Township School Board, Michigan Supreme Court) that allowed Ms. Ross to become the district's first African American school teacher propelled his drive for justice.
In large measure, because of Ms. Ross's determination to seek redress through the courts, Devlin has devoted his career to ensuring that all people, especially the "little guy," has the opportunity to seek equal access to justice. Throughout his career, Devlin has honed a reputation for being unafraid to vociferously fight for his clients' rights in the courtroom, especially in some of the most difficult cases, and has earned him his litigation bone fides.
An avid musician, Devlin plays saxophone on Sundays for his church choir and praise team, and can also be found playing saxophone or "sitting-in" with jazz and R&B bands throughout the Detroit metropolitan area.
Devlin and his wife, Yvette, are longtime residents of the City of Southfield. The couple has two beautiful daughters.
Recent Achievements include:
2015 – Obtained the highest jury verdict and judgment in Michigan for a No-Fault Insurance case (exceeding $700,000). [Thwany v Auto Club of Michigan, Wayne County, Mich.]
2015 – Obtained $600,000 for a client in trucking case. [Thwany v Gelardo Produce, Oakland County, Mich.]
Devlin's efforts in Thwany v Gelardo Produce led to a multi-million dollar judgement for our client concerning a single automobile accident.
2013 – Featured in Michigan Lawyer's Weekly's $1 Million Dollar Settlement/Verdict Issue
 Bar Admissions:
2002, State Bar of Michigan
2002, United States District Court, Eastern District of Michigan
2006, United States District Court, Western District of Michigan
Experience:
2002-Present: Trial Attorney, Turner and Turner, P.C., Southfield, Michigan
2003-Present: Guardian Ad Litem, Wayne Co., Mich. Probate Court
2001:  Student Attorney, Legal Aid and Defender Association
Education:
Juris Doctorate, University of Detroit-Mercy School of Law, 2001
"Book Award" for Contracts Course (indicating highest grade achieved of all students)
Bachelor of Arts, Michigan State University, 1996
Professional Associations:
State Bar of Michigan (Negligence Law Section, Appellate Practice Section, Probate and Estate Planning Section)
American Bar Association
Michigan Association for Justice
D. August Straker Bar Association
Editor and writer for Michigan Business Law Journal
Young Lawyer's Association
Personal Activities and Annotations:
Family Victory Fellowship Church Member (serving in various capacities that involve donating time and resources to those citizens in need of assistance).
Saxophonist for Family Victory Fellowship Choir and Praise Team
SKIP (Save Kids of Incarcerated Parents) – Mock Trial Benefit
My Brother's Keeper mentor
 "In my very first trial, I won that case for my client — a senior citizen who deserved justice. She was grateful that she received justice by winning at trial."
"After losing a trial for a certain client, surprisingly the client seemed nearly as excited as the opponent who had won and said, 'I'm just glad I had my day in court and had a chance to fight for what I believed was right.' It was the client's gratitude that reinforced within me the belief that all citizens deserve access to fair and equal justice. Whether we are plaintiffs, defendants, Republicans or Democrats, justice is the outcome that we should all strive to achieve."